Theranostics 2021; 11(19):9234-9242. doi:10.7150/thno.58755 This issue
Research Paper
Silicon nanowires decorated with platinum nanoparticles were applied for photothermal-enhanced sonodynamic therapy
Institute of Functional Nano & Soft Materials Laboratory (FUNSOM), Collaborative Innovation Center of Suzhou Nano Science and Technology, Soochow University, Suzhou, Jiangsu 215123, China.

This is an open access article distributed under the terms of the Creative Commons Attribution License (https://creativecommons.org/licenses/by/4.0/). See http://ivyspring.com/terms for full terms and conditions.
Citation:
Sun L, Wang X, Gong F, Yin K, Zhu W, Yang N, Bai S, Liao F, Shao M, Cheng L. Silicon nanowires decorated with platinum nanoparticles were applied for photothermal-enhanced sonodynamic therapy.
Theranostics
2021; 11(19):9234-9242. doi:10.7150/thno.58755. Available from
https://www.thno.org/v11p9234.htm
Abstract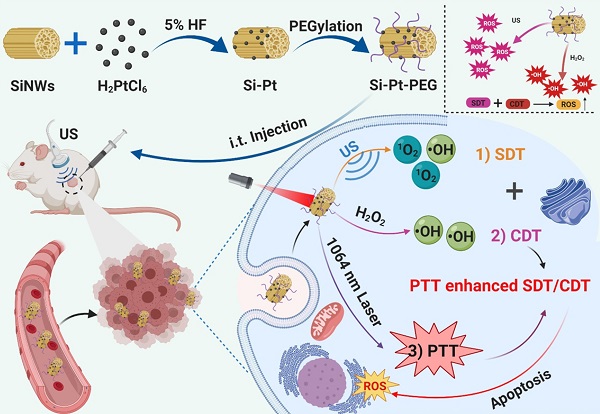 Sonodynamic therapy (SDT) triggered by ultrasound (US) can overcome pivotal limitations of photo-therapy owing to its high depth-penetration and low phototoxicity. However, there is still a need to develop more efficient sonosensitizes to enhance the therapy efficiency.
Methods: In this study, Pt nanoparticles (Pt NPs) are reduced on silicon nanowires (SiNWs) by in situ reduction to prepare Si-Pt nanocomposites (Si-Pt NCs).
Results: Si-Pt NCs can produce reactive oxygen radicals (ROS) under ultrasound (US) irradiation, which have sonodynamic therapy (SDT) effect. Meanwhile, Si-Pt NCs can convert excess hydrogen peroxide (H2O2) into ROS in the tumor microenvironment, which endow strong chemodynamic therapy (CDT) effect. Taking the advantages of the mesoporous structure of SiNWs, the SDT and CDT effects of Si-Pt NCs are stronger than those of the pure Pt NPs and SiNWs. Besides, the mild photothermal effect of Si-Pt NCs further improves the SDT&CDT activity and realizes the combined cancer therapy.
Conclusion: The developed Si-Pt NCs with the ability of photothermal enhanced SDT/CDT combined therapy play a momentous role in the novel cancer treatment.
Keywords: Silicon nanowires, Si-Pt nanocomposites, sonodynamic therapy, chemodynamic therapy, combined cancer therapy