Theranostics 2020; 10(16):7034-7052. doi:10.7150/thno.47406 This issue
Review
Bioengineering tools to speed up the discovery and preclinical testing of vaccines for SARS-CoV-2 and therapeutic agents for COVID-19
1. Department of Chemistry, Materials and Chemical Engineering G. Natta, Politecnico di Milano, Milano, Italy.
2. Pediatric Clinical Research Center "Fondazione Romeo ed Enrica Invernizzi", Department of Biomedical and Clinical Sciences L. Sacco, University of Milano, Italy.
*Equally-contributing authors.

This is an open access article distributed under the terms of the Creative Commons Attribution License (https://creativecommons.org/licenses/by/4.0/). See http://ivyspring.com/terms for full terms and conditions.
Citation:
Raimondi MT, Donnaloja F, Barzaghini B, Bocconi A, Conci C, Parodi V, Jacchetti E, Carelli S. Bioengineering tools to speed up the discovery and preclinical testing of vaccines for SARS-CoV-2 and therapeutic agents for COVID-19.
Theranostics
2020; 10(16):7034-7052. doi:10.7150/thno.47406. Available from
https://www.thno.org/v10p7034.htm
Abstract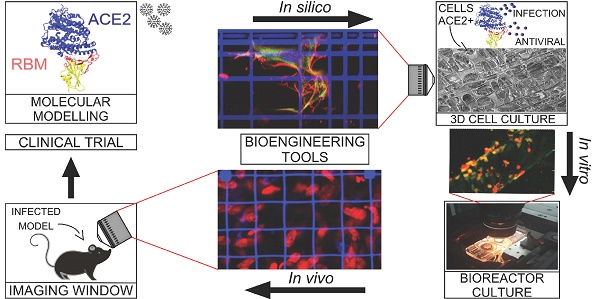 This review provides an update for the international research community on the cell modeling tools that could accelerate the understanding of SARS-CoV-2 infection mechanisms and could thus speed up the development of vaccines and therapeutic agents against COVID-19.
Many bioengineering groups are actively developing frontier tools that are capable of providing realistic three-dimensional (3D) models for biological research, including cell culture scaffolds, microfluidic chambers for the culture of tissue equivalents and organoids, and implantable windows for intravital imaging.
Here, we review the most innovative study models based on these bioengineering tools in the context of virology and vaccinology. To make it easier for scientists working on SARS-CoV-2 to identify and apply specific tools, we discuss how they could accelerate the discovery and preclinical development of antiviral drugs and vaccines, compared to conventional models.
Keywords: Coronavirus, bioengineering, target, antiviral, vaccine, preclinical testing