Theranostics 2012; 2(1):86-102. doi:10.7150/thno.4006 This issue
Review
Improving the Magnetic Resonance Imaging Contrast and Detection Methods with Engineered Magnetic Nanoparticles
1. Department of Radiology and Imaging Sciences, Emory University School of Medicine, Atlanta, Georgia 30322, USA
2. Center for Systems Imaging, Emory University School of Medicine, Atlanta, Georgia 30322, USA
3. MR Research and Development, Siemens Healthcare, USA
4. Department of Surgery, Emory University School of Medicine, Georgia 30322, USA

Citation:
Huang J, Zhong X, Wang L, Yang L, Mao H. Improving the Magnetic Resonance Imaging Contrast and Detection Methods with Engineered Magnetic Nanoparticles.
Theranostics
2012; 2(1):86-102. doi:10.7150/thno.4006. Available from
https://www.thno.org/v02p0086.htm
Abstract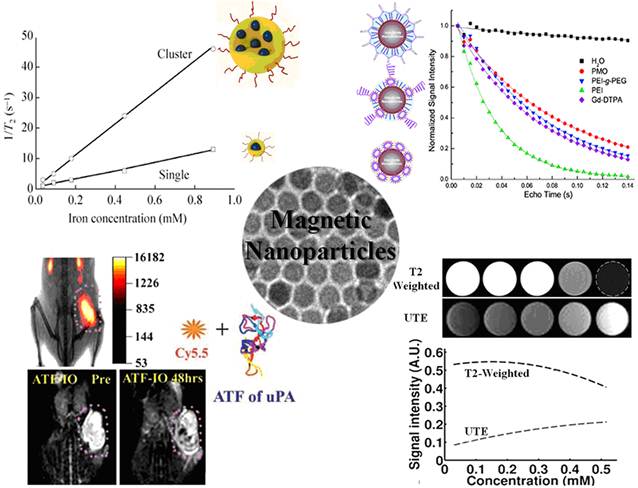 Engineering and functionalizing magnetic nanoparticles have been an area of the extensive research and development in the biomedical and nanomedicine fields. Because their biocompatibility and toxicity are well investigated and better understood, magnetic nanoparticles, especially iron oxide nanoparticles, are better suited materials as contrast agents for magnetic resonance imaging (MRI) and for image-directed delivery of therapeutics. Given tunable magnetic properties and various surface chemistries from the coating materials, most applications of engineered magnetic nanoparticles take advantages of their superb MRI contrast enhancing capability as well as surface functionalities. It has been found that MRI contrast enhancement by magnetic nanoparticles is highly dependent on the composition, size and surface properties as well as the degree of aggregation of the nanoparticles. Therefore, understanding the relationships between these intrinsic parameters and the relaxivities that contribute to MRI contrast can lead to establishing essential guidance that may direct the design of engineered magnetic nanoparticles for theranostics applications. On the other hand, new contrast mechanism and imaging strategy can be developed based on the novel properties of engineered magnetic nanoparticles. This review will focus on discussing the recent findings on some chemical and physical properties of engineered magnetic nanoparticles affecting the relaxivities as well as the impact on MRI contrast. Furthermore, MRI methods for imaging magnetic nanoparticles including several newly developed MRI approaches aiming at improving the detection and quantification of the engineered magnetic nanoparticles are described.
Keywords: magnetic nanoparticles, engineering, functionalizing, magnetic resonance imaging