Theranostics 2019; 9(25):7924-7947. doi:10.7150/thno.37924 This issue
Review
Imaging of T-cells and their responses during anti-cancer immunotherapy
1. Department of Tumor Immunology, Radboud Institute for Molecular Life Sciences, Radboud university medical center, Nijmegen, The Netherlands
2. Department of Radiology and Nuclear Medicine, Radboud university medical center, Nijmegen, The Netherlands
3. Department of Imaging Chemistry and Biology, School of Biomedical Engineering and Imaging Sciences, Kings' College London, London, United Kingdom

This is an open access article distributed under the terms of the Creative Commons Attribution License (https://creativecommons.org/licenses/by/4.0/). See http://ivyspring.com/terms for full terms and conditions.
Citation:
Krekorian M, Fruhwirth GO, Srinivas M, Figdor CG, Heskamp S, Witney TH, Aarntzen EHJG. Imaging of T-cells and their responses during anti-cancer immunotherapy.
Theranostics
2019; 9(25):7924-7947. doi:10.7150/thno.37924. Available from
https://www.thno.org/v09p7924.htm
Abstract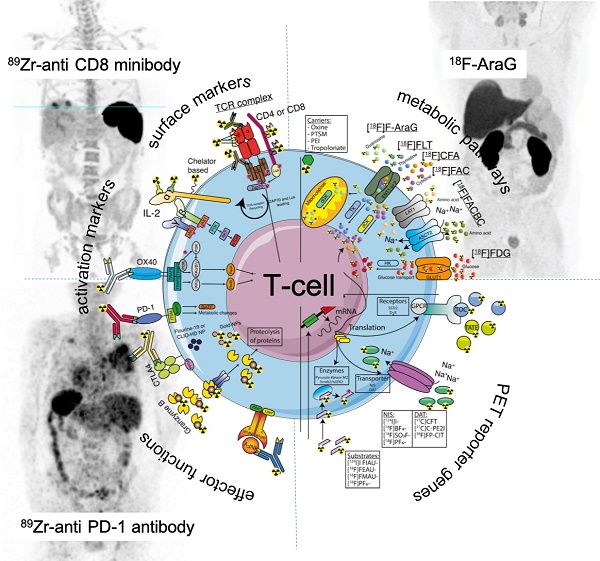 Immunotherapy has proven to be an effective approach in a growing number of cancers. Despite durable clinical responses achieved with antibodies targeting immune checkpoint molecules, many patients do not respond.
The common denominator for immunotherapies that have successfully been introduced in the clinic is their potential to induce or enhance infiltration of cytotoxic T-cells into the tumour. However, in clinical research the molecules, cells and processes involved in effective responses during immunotherapy remain largely obscure. Therefore, in vivo imaging technologies that interrogate T-cell responses in patients represent a powerful tool to boost further development of immunotherapy.
This review comprises a comprehensive analysis of the in vivo imaging technologies that allow the characterisation of T-cell responses induced by anti-cancer immunotherapy, with emphasis on technologies that are clinically available or have high translational potential. Throughout we discuss their respective strengths and weaknesses, providing arguments for selecting the optimal imaging options for future research and patient management.
Keywords: Immunotherapy, cell-based therapy, in vivo imaging, T-cells, positron emission tomography.