Theranostics 2017; 7(3):559-560. doi:10.7150/thno.18728
Erratum
Active Tumor Permeation and Uptake of Surface Charge-Switchable Theranostic Nanoparticles for Imaging-Guided Photothermal/Chemo Combinatorial Therapy: Erratum
1. Department of Biomedical Engineering and Environmental Sciences, National Tsing Hua University, Hsinchu 30013, Taiwan
2. Department of Chemical Engineering, National Chung Hsing University, Taichung 402, Taiwan

How to cite this article:
Hung CC, Huang WC, Lin YW, Yu TW, Chen HH, Lin SC, Chiang WH, Chiu HC. Active Tumor Permeation and Uptake of Surface Charge-Switchable Theranostic Nanoparticles for Imaging-Guided Photothermal/Chemo Combinatorial Therapy: Erratum.
Theranostics
2017; 7(3):559-560. doi:10.7150/thno.18728. Available from
http://www.thno.org/v07p0559.htm
Corrected-article in Theranostics, Volume 6, 302
In our paper [1] and the supplementary materials, Figure 10b and Figure S10 should be corrected as follows.
Figure 10
(a) Tumor growth inhibition profiles of the mice bearing TRAMP-C1 tumor injected with various formulations, followed by NIR laser irradiation (5 min, 1.0 W/cm2) 6 h post-injection or without any laser treatment (n = 4 per group). Morphology and size of the tumors of each group isolated from the sacrificed mice at day 15 (the end point) after the treatment. (b) Images of H&E-stained tumor sections harvested from the tumor-bearing mice receiving treatments. Scale bars are 100 μm.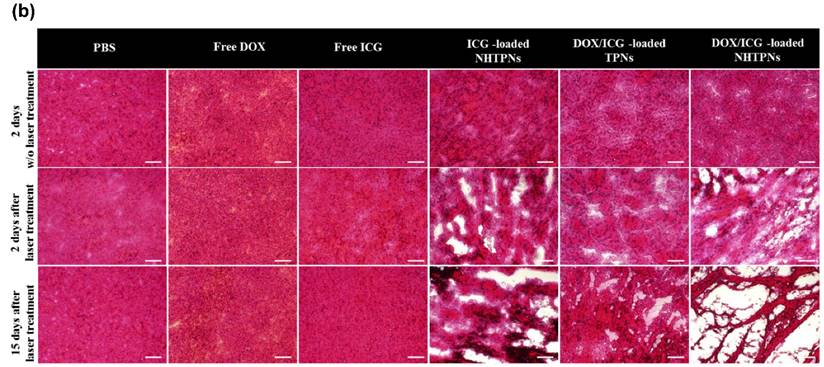 (Click on the image to enlarge.)
Figure S10
H&E-stained images of major organs. The TRAMP-C1 tumor-bearing mice receiving different formulations and NIR irradiation were sacrificed 15 days post treatment. Scale bars are 100 μm.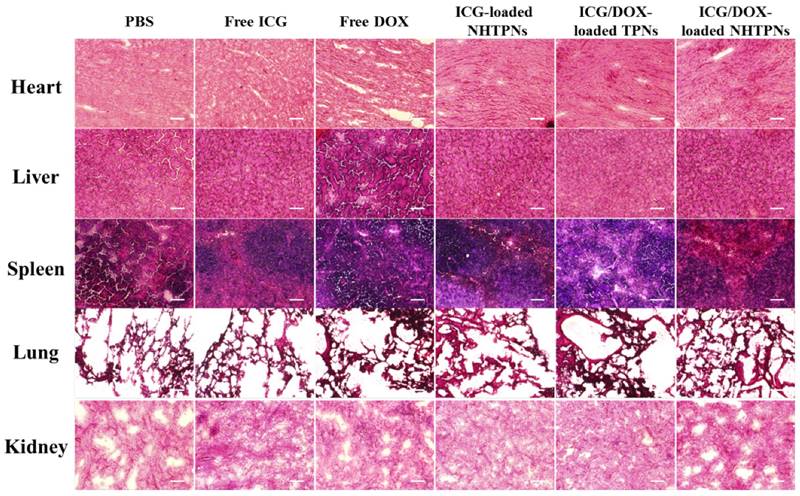 (Click on the image to enlarge.)
References
1. Hung CC, Huang WC, Lin YW, Yu TW, Chen HH, Lin SC, Chiang WH, Chiu HC. Active Tumor Permeation and Uptake of Surface Charge-Switchable Theranostic Nanoparticles for Imaging-Guided Photothermal/Chemo Combinatorial Therapy. Theranostics. 2016;6(3):302-317 doi:10.7150/thno.13686
Author contact

Corresponding authors: poemt5637com (W.-H. Chiang) and hscchiunthu.edu.tw. (H.-C. Chiu)
---
Published 2017-1-7